Starting today, till all supplies of Current stock are gone. All STIHL Lightning Battery Powered equipment is on SALE at 20% off.

Certain models (

AI Series

) have built in battery, and wall charger. Other models (

AK Series

) come with separate battery and charger. Larger Commercial (

AP Series

)grade equipment do not come with battery or charger (

Sold Separately and ordered when you purchase item

).

Comes with a 3-year Homeowner Warranty and 2-Year Commercial Warranty



FSA 45


$129.95





Part of the AI Series, the FSA 45 delivers STIHL quality at a value price. It features an adjustable shaft length to fit different user heights and enhance comfort. With its adjustable trimmer head, this tool can adapt to various trimming tasks. It comes standard with the STIHL PolyCut™ 2-2 mowing head, making it ideal to cut in hard-to-reach places and large areas of tall grass. Plus, you can trim the length of three football fields when its integrated battery is fully charged – that's up to 1,080 feet

(20 minute run time)

. This STIHL AI Series trimmer is also just 5.1 lbs. (including battery) for easy portability and maneuverability. This trimmer is a great choice for occasional use on small properties!



*Comes with Integrated Battery & Wall Charger





HSA 45


$129.95





Part

of the AI Series, the HSA 45 hedge trimmer delivers high cutting speeds and a compact, ergonomic design. It is lightweight for enhanced portability and features an integrated battery – so no separate battery or charger to manage. On a single charge, the HSA 45 can trim a hedge 20" wide and a length longer than a football field (360 feet,

40 minute run time

). And with its high cutting speeds of 2,500 strokes per minute, it will take care of your small, urban yard in no time. It's a great battery-powered hedge trimmer for smaller property care.




*Comes with Integrated Battery & Wall Charger





BGA 45
$129.95



Part of the AI Series, the BGA 45 handheld blower delivers the power you need at an incredible value. It is exceptionally quiet and lightweight at 4.4 lbs., including integrated battery. On a single charge, the BGA 45 can clear more than 13 parking spaces (2,153 square ft.,

19 minute run time

) with a blowing speed of 85 mph and an air volume of 235 cfm. If you own a small property and need a quick go-to blower for your driveway and walkways, the BGA 45 is the complete package.




*Comes with Integrated Battery & Wall Charger






FSA 56
$199.95






Part of the STIHL Lightning Battery System™ line of products, the FSA 56 delivers STIHL performance and exceptional value. It features an adjustable shaft to fit different user heights for enhanced comfort. Its AutoCut® head feeds out new line with just a tap on the ground. And you can trim the length of five football fields on a single charge – that's up to 0.31 miles (

17 minute run time

). This STIHL AK Series battery trimmer is also just 7.3 lbs. (including battery) for easy portability and maneuverability. And when you're done, hang it on the wall from its onboard hanging slot. The FSA 56 bundle comes standard with the AK 10 battery and AL 101 battery charger. The FSA 56 is also available as a stand-alone unit without battery and charger.




*Comes with AK10 Battery & AL101 Charger






MSA 120 C-BQ
$299.95



Part of the STIHL Lightning Battery System™ line of products, the MSA 120 C-BQ is your new go-to chainsaw for storm cleanup or limb removal around your property. It is lightweight at only 8.4 lbs. (including battery, bar and chain) and features low vibration, quick chain adjustment and STIHL Quickstop® Plus chain braking feature. It also comes with the exclusive ¼" STIHL PICCO™ saw chain custom designed for use on STIHL battery-powered chainsaws. On four-inch diameter wood, this STIHL AK Series chainsaw can make 100 cuts on a single charge (

35 minute run time

), which gives you enough power to tackle a tall stack of firewood. Add this battery-powered chainsaw to your garage today. The MSA 120 C-BQ bundle comes standard with the AK 20 battery and AL 101 battery charger. The MSA 120 C-BQ is also available as a stand-alone unit without battery and charger.




*Comes with AK10 Battery & AL101 Charger





HSA 56
$249.95

Part of the STIHL Lightning Battery System™ line of products, the HSA 56 hedge trimmer delivers exceptional performance and value. It is portable and lightweight at only 8.1 lbs. (including battery), while also packing a performance punch. It features a high cutting speed of 2,800 strokes per minute, slicing through overgrown hedges with minimal vibration. Trim the length of three football fields on a single charge – that's up to 1,000 feet (

40 minute run time

). And when you're done, just hang it on the wall from its onboard hanging slot. It's a great STIHL AK Series hedge trimmer for suburban yard care. The HSA 56 hedge trimmer bundle comes standard with the AK 10 battery and AL 101 battery charger. The HSA 56 is also available as a stand-alone unit without battery and charger.



*Comes with AK10 Battery & AL101 Charger




BGA 56
$199.95



Part of the STIHL Lightning Battery System™ line of products, the BGA 56 combines STIHL performance and exceptional value. Its powerful motor delivers air speeds of 100 mph and an air flow of 353 cfm at the nozzle. It features an adjustable tube to fit different user heights for enhanced comfort. Clear a sidewalk, seven football fields long

(20 minute run time)

, on a single charge with this STIHL AK Series handheld blower. The BGA 56 is also just 7.3 lbs. (including battery) for easy portability and maneuverability. And when you're done, hang it on the wall from its onboard hanging slot. The BGA 56 bundle comes standard with the AK 20 battery and AL 101 battery charger. The BGA 56 is also available as a stand-alone unit without battery and charger.




*Comes with AK10 Battery & AL101 Charger





FSA 90R
$299.95



The FSA 90 R trimmer combines the benefits of Lithium-ion technology with the renowned power of STIHL. A quiet, battery-powered trimmer, the FSA 90 R is great for landscaping in noise-sensitive areas like school grounds, business districts or hospitals. If it's ease of use you're looking for, this is the trimmer you need – it's lightweight, has a 15" cutting width, ergonomic loop handle, a slim profile for easy handling and transport, and starts instantly with a squeeze of the trigger. Additional benefits include the innovative control handle with ECOSPEED "soft" stop trigger setting, which can extend the amount of work done on a single charge

(30 minute run time)

. The time for trimming fuel costs and exhaust emissions is now, and the FSA 90 R is the right tool for the job!




*

Battery & Charger Sold

Separately


MS200 C-BQ
$329.95

No pulling on cords, fuel mixing or complicated startup procedures. With the MSA 200 C-BQ chainsaw, just squeeze the trigger and start cutting. In addition to easy starting, our Lithium-Ion tools produce zero exhaust emissions and are quieter than their gasoline-powered counterparts, making them an ideal choice for areas with emission or noise restrictions. Powered by an interchangeable 36-volt STIHL Lithium-Ion battery, this chainsaw delivers the speed, cutting capacity, and

run time of 45 minutes

to take on just about any cutting job on your property. The STIHL MSA 200 C-BQ is a cordless chainsaw tough enough to carry the name STIHL.



*

Battery & Charger Sold

Separately





HSA 66
$219.95






The STIHL HSA 66 Lithium-Ion hedge trimmer features a 36-volt lithium-ion battery and delivers strong, quiet cutting performance. Another tool in the STIHL Battery-Powered Equipment line, the HSA 66 runs on the same universal battery shared by all battery-powered tools. Its energy-efficient design allows for up to 40% longer run times (180 minutes) when compared to the previous model. And as always, there's no gradual drop in performance – it runs at full power until the battery is fully depleted.

The HSA 66 features optimized blade geometry and diamond-ground blade edges for clean cuts, even through thick and tough shrubbery. The 20" blade length is an efficient working length for most applications and a tip protector helps protect blade tip from damage. The HSA 66 lithium-ion hedge trimmer is a great choice for professionals interested in both controlled sculpting and general hedge trimming tasks




*

Battery & Charger Sold

Separately


BGA 85
$229.95





No gas. No cord. No emissions and almost no weight. The STIHL BGA 85 handheld blower features a powerful 36-volt, lithium-ion battery for excellent blowing power that is quiet, clean, and best of all, cordless. This lightweight blower is extremely compact, weighing a mere 7 lbs. without battery, yet it delivers over 100 mph of air to move stubborn yard debris with the

run time being 24 minutes

. And don't expect any gradual power drops – this blower will run at full speed until it's time to recharge. An ideal blower for use around the home. And the BGA 85 blower is part of the STIHL battery-powered line. The battery can be used interchangeably among a family of other STIHL lithium-ion products – including chainsaws, grass trimmers, hedge trimmers, pole pruners, lawn mower, and cut-off machine.







*

Battery & Charger Sold

Separately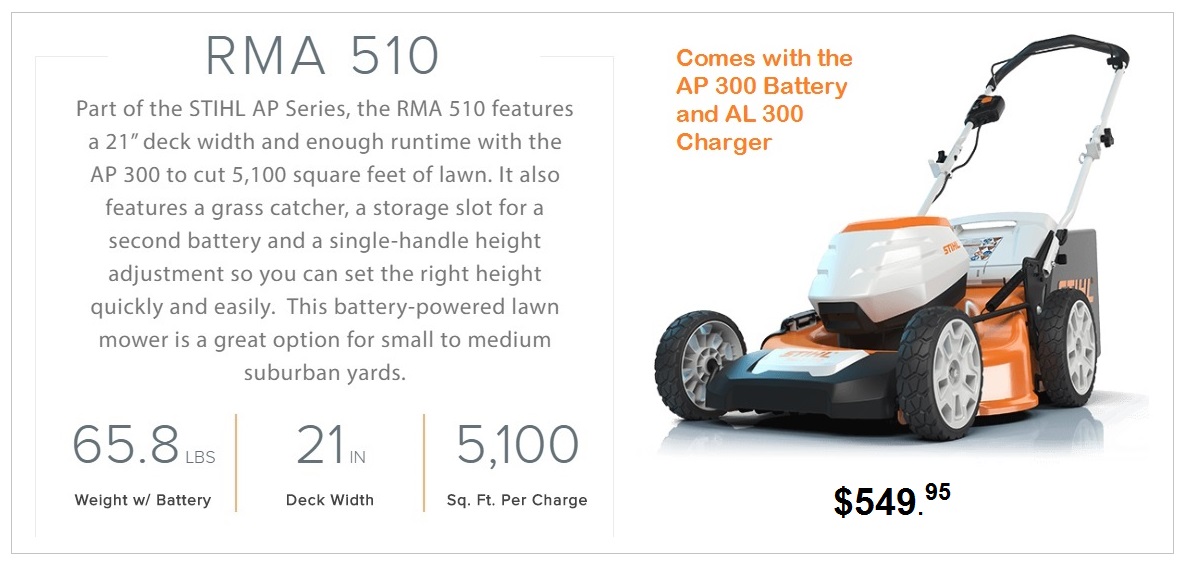 (More options available upon request)

AK10 Battery and AL 101 Charger Included with Purchase of AK Equipment

Cordless Battery comes with 3-month Commercial and 3-year Residential Warranty